Overview of Community-Based Surveillance
Routine surveillance (RS) is the regular collection of health-related data to inform public health practice. RS relies on the health system to get the data. Community-based surveillance (CBS) is the detection and reporting of significanct public health events in a community by community members. CBS catches events missed by RS.
It is best for tracking unusual patterns to help monitor health emergencies and can prevent them from escalating. There are 3 scenarios where CBS is most useful:
A public health emergency, such as a disease outbreak;
no RTS or it is ineffective;
to monitor hard-to-reach populations.
It is necessary to have community participation and engagement as well as a reliable response network to ensure effective community-based surveillance.
The Role of Community-Based Health Workers in Community Based Surveillance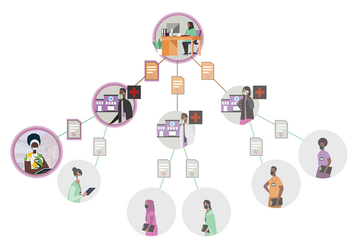 As a community health worker you can support community-based surveillance for COVID-19 by collectinginformation. Listen 👂to the community, monitor their behaviour and look out for signals of possible outbreaks. Your role in CBS may involve data collection, confirming if information already collected is correct (verification) ✓ or to help share information (dissemination)📣.
Once data is collected, it is uploaded to a database. Health officials can then use the data to see early warning signs 🚩 for public health emergencies and plan the best possible response✍️.
Implementing Community-Based Surveillance
Strong community-based surveillance adds to the overall surveillance system, uses simple tools to collect data and is carried out by trained & trusted people. To make CBS for COVID-19 effective, follow these tips:
Use simple language to identify cases or hazards in the community;
work with community leaders and discuss events & trends they notice 🔍 in the community;
support outbreak investigations and contact tracing;
provide updates to the community on outbreaks;
remember to give the community updates on outbreak investigations and send regular reports 🗒 to your supervisor or local health facility;
check🔍 that public health programs being implemented are on track and are leading to fewer COVID 19 cases and deaths.
Events to Track for COVID-19 When Conducting Community-Based Surveillance
In the pandemic, one important role of CBS is to track COVID-19 events (signal detection). Here is a list of possible events to track as a COVID-19 risk:
Track any COVID-19 related deaths;
track sales and stock of thermometers 🌡or fever-reducing drugs 💊at local pharmacies;
check social media for large social gatherings;
track the spread of misinformation over WhatsApp and on other social media📱;
collect data on the number of people in quarantine and isolating in your community;
observe mask 😷 wearing in your community;
monitor the number of hand washing stations🚰 in your community that need to be refilled.